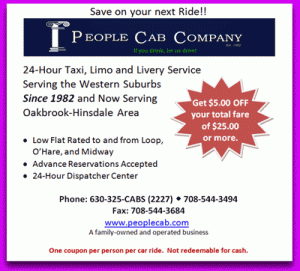 Our Fares
We offer competitive fares, including discounted rates for Corporate Accounts and Daily Usage.
Initial Flag Pull: $2.25
Mileage (In Area): $2.10
Mileage (Out of Area): $2.90
Waiting Time: $24.00/hour
Livery: $50.00/hour
Limos Starting At: $90.00/hour
Actual fares are determined by metered distances. All fares listed above are subject to change without notice.
Do you have any questions about our fares? Please contact us at:
info@peoplecab.com
Or call us at:
630-325-CABS (2227) or 708-544-3494